Incentit Program Management, Tracking & Reporting
For incentive program managers.
Configurable web-based platform.
Build, publish, and manage unlimited incentive programs.
Channel incentives, sales spiffs, consumer rebates, and instant discounts.
Workflow-based and rules-based incentive processing.
Fine-grained security applying hierarchical relationships and user roles.
Survey module to capture participant analytics.
Application tracking and reporting.
Notification engine.
API to fulfillment.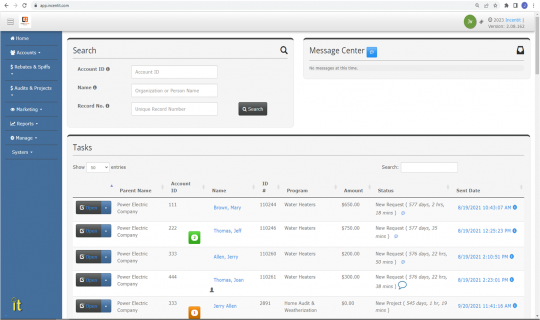 X
Our master configuration for utility programs is tailored to the unique needs of utilities and public agencies. It includes centralized program management for multi-utility and multi-level rebate programs, a separate home audit program module, and delivers on rich program activity and energy impact reporting.
Our master configuration for channeled and direct-to-consumer products offers multiple incentive intake paths including open the public,secured web portal, mobile app, and support for mail-in. Advanced features include wholesale-retail record matching, data auditing, and electronically feeding of approved applications to incentive fulfillment.